Where in the World is RLE?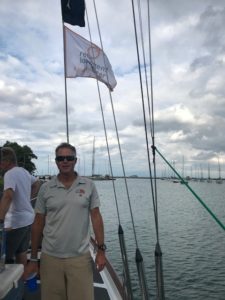 You never know where in the world the Retirement Loan Eraser banner will turn up.  This spring, it was at base camp at Mount Everest with our CTO John Steinmeyer.  This past weekend the RLE banner traveled to Lake Michigan with Rennie Worsfold, our EVP of Distribution, for the fabled Race to Mackinac.
The Race to Mackinac is the longest fresh water race in the world, 300 nautical miles up the length of Lake Michigan from the Navy Pier in Chicago to Mackinac Island, Michigan.  Rennie was one of eight experienced crew on the vessel Chamade, a 1967 Charlie Morgan 45, one of only a handful built for racing of this type.
Rennie performed a variety of roles including driving, navigation and trimming the sails.  He and his teammates did shifts of four hours on, four hours off, with at least four always sailing the boat.
288 boats competed in tough race conditions this year, with strong northerly winds and steep waves thrown at the sailors during the course.  The Chamade finished fourth in their section, despite significant challenges experienced during the voyage.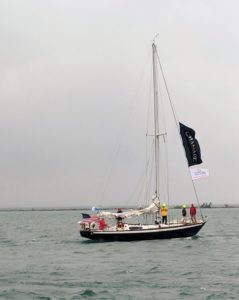 Here at Retirement Loan Eraser we were proud to support Rennie during the Race to Mackinac.
We can't help but wonder what adventure awaits the RLE banner next!